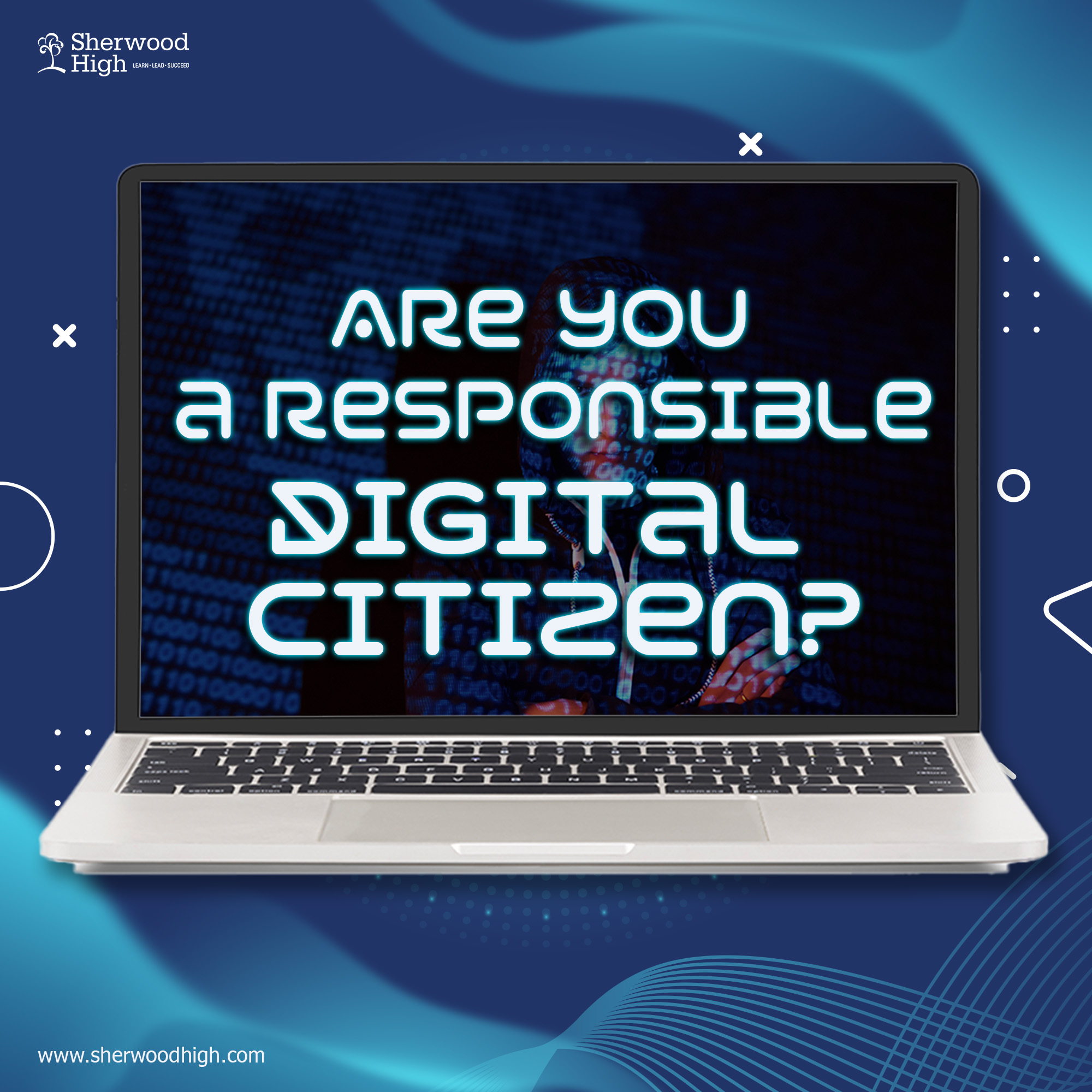 Are you a responsible digital citizen?
Are you a responsible digital citizen?
From fake news and data theft to financial fraud and inappropriate content, Internet is filled with threats at multiple levels and it is essential for our children to learn about the dangers lurking behind the screen.
What is Digital Citizenship and why it is important? Lear about it here…
Internet is a virtual world with its own dynamics and undercurrents. In the modern world, the use of Internet has become essential, not only for entertainment but also for work, education and social engagement.
As much as the adults, our children are hooked onto the screen and their digital consumption has become a concern for all of us.
But, technology is here to stay and digital engagement is a reality that none of us can avoid, nor can we stop our children from engaging with technology.
With technology surrounding us from all sides, it is neither practical nor possible to keep our children completely away from digital engagement.
However, we cannot leave our children unprotected at the mercy of the increasingly dangerous world of Internet. The digital world is a wild beast and hence it is imperative on us to learn the good and bad of it and train our children to engage with it responsibly. Under these dynamics enters Digital Citizenship.
What is Digital Citizenship?
Digital Citizenship is a process for leaders, teachers and parents to understand and explain how children should use technology appropriately.
Digital Citizenship trains children and young adults on how to engage with technology and participate in consuming the digital content in a responsible way.
The idea is to protect them from consuming inappropriate or harmful content and keep them secured from the Internet predators and the dangers lurking behind the screen.
It also sensitises the children about privacy and being respectful of other Internet users' rights.
It is more than just a teaching tool, it is a process that prepares students for a society surrounded by and immersed in technology.
With the appropriate use of the Internet, students as well as adults can be more aware of human rights violations and learn about ways to protect themselves from fraud, data theft, fake news and disinformation.
Definition
According to the Council of Europe, Digital Citizenship is defined as:
"The competent and positive engagement with digital technologies (creating, working, sharing, socialising, investigating, playing, communicating and learning); participating actively and responsibly (values, skills, attitudes, knowledge) in communities (local, national, global) at all levels (political, economic, social, cultural and intercultural); being involved in a double process of lifelong learning (formal and informal settings) and continuously defending human dignity."
It is obvious from this definition that Digital Citizenship allows virtual citizens to use technology and engage with the virtual world in a thoughtful and empathetic manner.
More than parents, schools play a crucial role in educating students about the ideal use of the Internet. It is the job of the schools not to just educate students about the responsible use of the Internet, rather the creative use of the technology is essential in order to harness the true powers of the digital world.
In order to make digital citizenship work, schools need to implement the latest education technology available and teachers need to work as the main guides not just for students but also for their families, developing their safety awareness in the digital world.
Urgency
The covid-19 pandemic increased our dependency on technology and played a great role in attaching us further to the screens. It opened up an alternative reality and possibility to the entire world.
From business and trading to shopping and schooling the whole world moved online. Though the world has returned to near normalcy now, the use of technology has increased at a dizzying pace and the digital network as expanded its web to remotest of areas.
However, most of these new users of the Internet are largely unaware of the dangers lurking behind their screens, hence there is a greater urgency to create awareness about the dangers of the digital world to millions of new users who are entering the virtual fold every day.
How is technology impacting our children?
Technology has had an immense impact on the way our children consume information and acquire knowledge.
Among the major benefits of technology has been the ease of accessing information. Apart from allowing easy access to a wide range of resources, it also facilitates self-paced learning, easy connection, coordination and collaboration with co-learners from across the world, quick and instant updates of new developments and research on a subject, possibility of connection with subject experts globally etc.
 No barriers
Technology has removed all the physical barriers or impediments to learning and virtual classrooms have become a new reality, with many schools operating online classrooms for students who opt to study from the comforts of home. This has added to the convenience of many working parents. But, every convenience and ease have their repercussions.
One of the major concerns of experts and psychologists is the impact continuous exposure to technology has on the young minds.
With the widespread availability and proliferation of technology, it is common to see children below the school age using communication devices such as tabs and phones. The acutely changed post-pandemic world has only increased the use of technology.
 Catch them young
According to the data accumulated by the American Academy of Paediatrics, children between the ages of eight to 10 years spend up to eight hours per day on technology, while teenagers spend more than 11 hours per day.
Many kids have digital devices at home before they start school, and the option of online learning only adds to the consumption of the digital content.
According to a recent report by Pew Research Center, 93 per cent of parents with children from kindergarten to 12th grade said their children had online learning during the pandemic.
Among these parents, 62 per cent reported that the online learning their children accessed during the pandemic was very useful.
While the increased use of technology in schools and at home for learning is not such a big issue, what is a matter of concern is the time they spend on social media while learning, with limited filters or understanding of what to consume and what not.
 Fake News
With the easy mix of useful and harmful content on social media platforms, it is hard for the children do distinguish between the two. They consider most of the information they access on these platforms as divine truth, which in reality is not the case.
Hence, it is important to include the social media dynamics in the Digital Citizenship Education.
This assumes greater information particularly with the greater presence of fake news and misinformation on the Internet, especially on social media, that plays a harmful role in brainwashing and conditioning the highly impressionable young minds.
Conclusion
With the proliferation of technology, Digital Citizenship Education assumes greater importance because it helps virtual citizens in the responsible use of technology and trains them to identify the dangers lurking on the Internet. With schools at the centre of providing education, it is their responsibility to implement Digital Citizenship Education programmes for children to expand their technological knowledge and promote safe engagement online.